Activated Carbon and Multi-media Changeout Services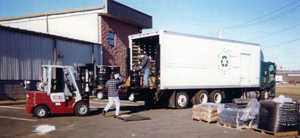 Carbon Service and Equipment Company (CSEC) can provide on-site hazardous and non-hazardous spent carbon and multi-media change out services throughout the US and Canada. CSEC prides itself on offering clean and meticulous turnkey spent carbon changeout services, utilizing our experienced 40-hour OSHA and LPS trained technicians. CSEC vac-trucks are designed to change out unlimited pounds of carbon and multi-media.
CSEC schedules weekly service runs and updates the
service run schedule
on this web-site to assist customers in scheduling their change outs when CSEC is in the area. Service runs are just one way that CSEC strides to help customers reduce the cost of operation and maintenance of their systems. Please check the Service Run Schedule weekly.
CSEC also offers emergency response change out services. Please call to schedule -- (724) 222.3334 or (407) 313.9113.
As companies become concerned with "cradle to grave" responsibility for potential environmental pollutants, CSEC's ability to ensure contaminant destruction through thermal reactivation of spent activated carbon eliminates the hassles, dangers, and risks associated with land-filling solid waste. Not only does our expertise in this market make spent carbon change-out services easy and convenient for our customers, we eliminate the risk of long term liability associated with improperly land-filling spent activated carbon.